30 Days of Photography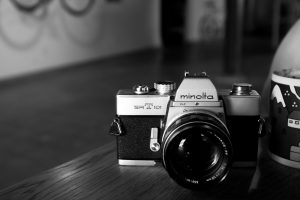 Day 1- Reading 88 Days To Any Goal by Rollan Roberts; It says, "success is created through consistency over extended periods of time".  I'm going to focus on photography for 90 days. (*I later shortened this to 30 so I could start studying something else). I watched THE B-SIDE: Elsa Dorfman's Portrait Photography on Netflix. She is a large format Polaroid photographer.
Day 2- continue reading 88 Days… book. Will continue reading Diane Arbus- Portrait Of A Photographer. At the library I got Avedon: Something Personal, but I'm just browsing through it.  Also 500 Cameras book. Picked up Portra 800 film from summer vacation. Also dropped off another Portra 800. Found some black and white film and Ektar 100. Plus a bag of more undeveloped film. 
*Practice w Argus C3- rangefinder. Easy to do double exposures. 100% manual.
Day 3- Finished 88 Days book. This study will examine photography technique, history, project shoots… Got Louis Vuitton Fashion Photography book. Still want to study Richard Avedon. Continuing Arbus book.
Tools- podcasts, books, videos, notes, photo shoots… I will go to my buddy Fonr's one day to practice using chemicals. 
Fashion photo notes- makeup, set design, theatrics, focus on clothes, backdrops, table, props, fabrics, scenes, scenarios, vignettes, themes, shoot in color & BW, use of color themes, water wind fire, background foreground….
Listened to So You Want To Be A Photographer podcast  about a guy that converted his garage into a photo studio.
Tim Walker, Steven Meisel, Helmut Newton;  set design- Shona Heath, Rhea Thierstein.
Day 4– reading Arbus bio.  Edward Steichen's The Family Of Man;  Avedon on Charlie Rose says people at the top of their game work work work.
Day 5– small shoot of Zeke's cake smash. Finished roll. But I opened the door of the camera too soon before completely rewinding film. Still learning, until it becomes second nature. Finished listening to Avedon/Rose interview.
Day 6– Watched Avedon Darkness and Light,  Herb Ritts, Mario Testino documentaries.
Day 7– Look for people w stories on their face; On a sunny day with  clouds use f11; Kodak Tri-X film (TX) can be pushed to 1600 for high contrast and grain; Ultramaxx, gold 200, colorplus film.
Joel Meyorwitz, Garry Winogrand
Day 8- took a couple pics. Iz got some sheets for backdrops. Want to shoot portraits.
Day 9- Wednesday. Ordered some expired 800 speed film. Badly want to shoot PM downtown AA. Set up for baby portrait shoot at Iz. Need to make a stand for work light. Richard Avedon Photography 1946-2004. Request Irving Penn from library. Martin Munkacsi shot large format and influenced Avedon and Bresson.
Day 10- Research how to shoot portraits, lighting basics; Martin Munkacsi inspired Avedon's use of  movement;  An Autobiography Richard Avedon; and In The American West.  Create an image, don't just take pictures. Focus on movement and eyes. Movement always involves surprises. When outside shoot in the shade to prevent shadows.
Jacques-Henri Lartigue; Robert Doisneau– french couple bw kiss. "The Kiss" was choreographed by the photographer.
Day 11- using photography log app called Analog. May make my own log to document photos while shooting. Shoot in car headlights. Study lighting. Read Avedon. Read Arbus. Find Arbus documentary. Watch Fur movie (fictitious N Kidman as Arbus). Susan Sontag On Photography. How to make DIY smoke effects. Flour as smoke? Gels? Fog cake? Incense? Use smoke behind the subject. Requested a ton more books.
Day 12- Saturday. Received 4 rolls expired 800 Kodak Max film. Pictures from Portra 800 roll came out nice! Camera was set to 500 vs 1000 previous. Still dark inside so may adjust ISO inside instead of leaving it set at 500. (not sure if you're supposed to do this with film… experimenting. If film is pushed or pulled, it is set and left for the whole roll). Reading Arbus. Looking at Vogue. Taking note of set design. Backdrops- white, black, grey, brown. Shoot in the woods with sheet/blanket. Woman up/man down. Straight ahead, left, right, arms, legs, walk slow, fast, eyes open, closed, shoulders, knees, feet, hair, sit, stand, mugshot, mirrors, sunglasses, bike, cars, doors, trunks, hoods, trampoline…
Day 13- Revolog 600nm film gives pics a reddish color. Other effect films available. Use prisms and kaleidoscope lens for effects. Use hose/nylon to diffuse light/image. Develop a website photo gallery.
Lisette Model photographer, taught Arbus. 
Day 14- Try to go to Fonr's this week. Plan a formal shoot. In most cases, the heroes have heroes. Lisette Model took pics of "grotesques" and non-average people- the rich and poor. Arbus would follow her teachers inspiration. Don't Make Me Think web design book. Take a photo of chair in the woods; Study aperture, lighting,SRT-101 hacks; Shoot daily; Manual mode; The only way to get better is to SHOoT! 
Weegee, Helen Levitt, Lee Friedlander
Day 15- Shoot razors and chair. Talk to Iz about headlights. Get tree stand. Condensation. Timer. I shot chair in woods on 200 speed. Finally realized that ISO can be changed mid roll to better suit the light (again, later realized not sure if this applies to analog film…) Light, form, texture, contrast are the focus when shooting BW. When shooting color, eye goes to brightest part of image. Talent Code book. Practice w Argus to perfect manual mode and experiment w double exposure.
Day 16- Photos from video stills. Next assignment I'm going to switch cameras. Maybe work with Rebel T3 for awhile. Then Argus. Shoot self portrait on a timer. Photojournalists take pics to illustrate a story. They cover the events of their time. Test flash on 101. I used the timer on the SRT and tripod. X370 also has a timer. 
Alfred eisenstaedt vj day celebration in times square 1945– soldier kissing lady in white.
Katsushika Hokusai Japanese classic art wave painting.
Aperture= small f#, small DoF, small amount of stuff in focus- portraits. Large f#, large DoF, more stuff in focus-landscapes.
Day 17- Shoot on the digital today. Bresson figured out exposure right away. Meter. Speed. Because once image passes it's gone forever.
You can't take pictures without a camera.
So many photographers mention Cartier-Bresson as inspiration. Gjon Mili and Harold Edgerton developed the strobe. Mary Ellen Mark's work reminds me of Arbus!- people on the fringe… Leibovitz says, spend time shooting someone close and really develop a story. Bring that idea to a magazine.
Irving Penn . Jeanloup Sieff. Sally Mann. Nan Goldin.
Day 18- Shot some reflections in puddles yesterday. Learn DSLR.  Go to a junkyard.  Find the personality in the face. Finished Faces of the Twentieth Century book.
Herb Ritts. Peter Lindbergh. Joel-Peter Witkin.
Day 19 Sat– Shooting on Rebel T3 today- basic DSLR. Want to get a 55mm lens for it-$50. Need 35mm for SLR. 
Day 20- Attended wedding . Lighting was pretty dark. Brought BW film and DSLR but nothing really inspired. Reading more-  Helmut Newton, Us and Them . Made spreadsheet based on analog book photo journal to document shots. Reading Family Of Man by Edward Steichen.
Day 21- Log into website to add list of discovered photographers books and resources. Shoot more digital and review images. Document this project on Instagram. See if library has list of books checked out 2019.
Day 22- Losing a little steam. Weather has been overcast. Shoot DSLR. Then shoot Argus last days of project. Liberating! Finally took a few shots on bw. Battery died on DSLR. Finished roll of TX! Got a big haul from library- fashion mags, Walker Evans, Gordon Parks, Avedon In the American West, and a book on bw photography.
Day 23- Minolta x370 has a timer. Shot some selfies. Need taller tripod or risers. Loaded Ilford HP5 film. 
Day 24- Review Argus operation. Avedon shot portraits in the shade because sun creates shadows and highlights that tell the eye where to look. He says "all photographs are accurate. None of them is the truth." 
Day 25- Shooting on Argus today. Getting the hang of how to advance. Gonna try making double exposures now. Finished reading In The American West. Finished first roll on Argus! Gold 200. Most contributions to photographic art I've seen has vast several years. Meaning, note worthy artists have made collections that range several years, not just several rolls. Garry Winogrand died with thousands of rolls undeveloped.
Day 26- log into site. Start adding notes from this project. Olympus trip cam; Canon AE1